Schlagwort-Archive:
Scheune Dresden
The Black Seeds "Dust & Dirt" Tour in der Scheune Dresden am 08.05.2012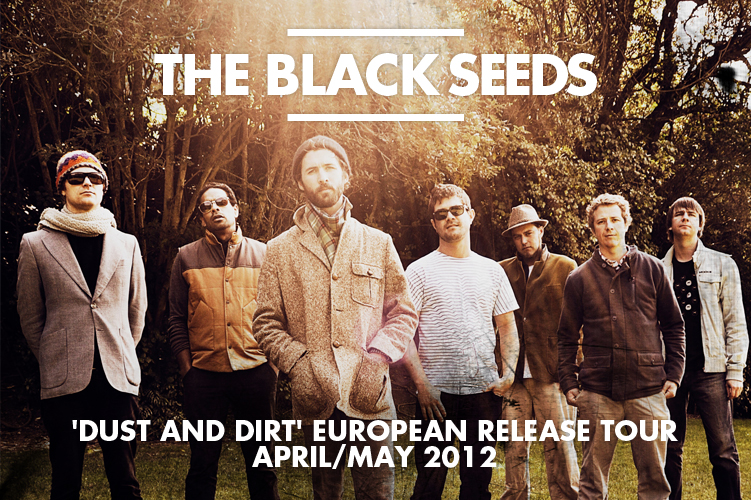 Neuseelands Reggae-Funk Schwergewichte The Black Seeds kündigen ihre Rückkehr nach Europa an.  Im April und Mai präsentieren sie auf diesem Weg die Veröffentlichung ihres lang erwarteten Studioalbums "Dust and Dirt".

Die Band sorgt weltweit mit ihren legendären 8-Mann Live Shows für Begeisterung. Sie hat sich für ihr neues Album 18 Monate Zeit genommen, um die Sounds, die sich seit ihrem letzten Album angestaut haben, auf Tonträger zu bannen. Herausgekommen ist das brandneue Album "Dust and Dirt".
In Europa und Nordamerika haben The Black Seeds in den letzten Jahren eine feste Fangemeinde durch Auftritte auf namenhaften Festivals und erfolgreiche Veröffentlichungen gewonnen. Down under haben sie bereits mehrfach Platin für ihre Alben "Solid Ground" und "Into the Dojo" bekommen.
Auf keinen Fall darf man also die 8-Mann Live Band im April und Mai auf ihrer Tour zum Release ihres neuen Albums verpassen.
"eine der besten Live-Reggae-Bands auf dem Planeten" Clash Music (UK)
The Black Seeds – New Album Teaser from Foxtree Studio on Vimeo.
Veröffentlicht unter
News
Kommentare deaktiviert

für Welcome to Dresden… New Zealand's finest!